September Featured Artist: Mary Sauer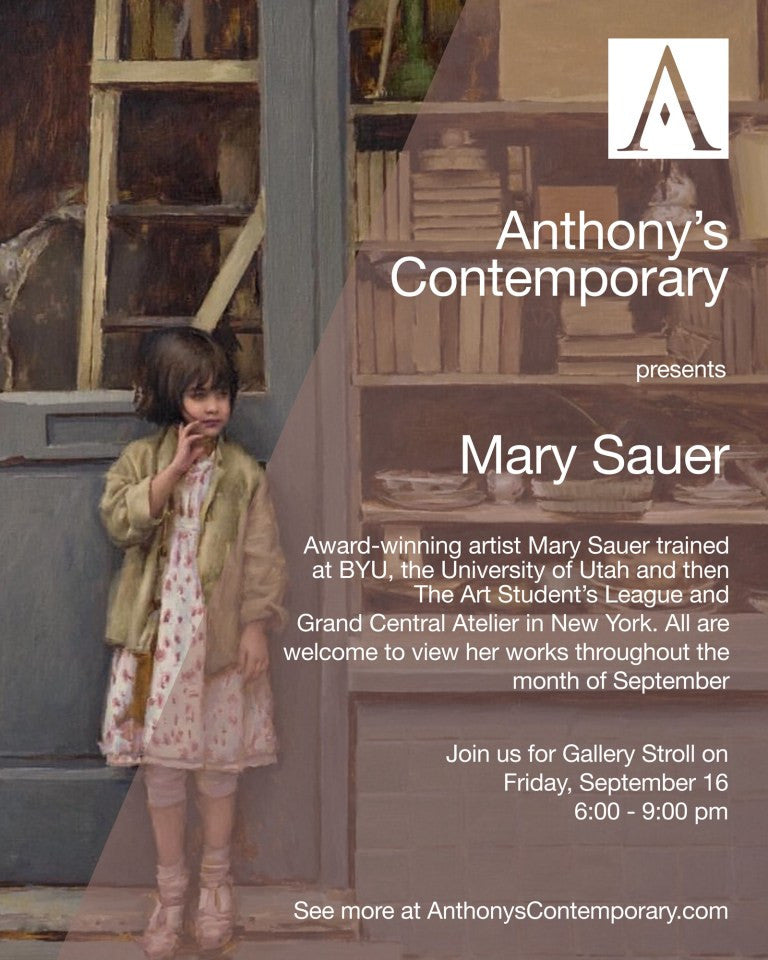 Each month throughout the year, we feature a different artist in our new contemporary gallery space. On the third Friday of each month, join us from 6:00 – 9:00 pm for a private look at some of the pieces for sale here at Anthony's. Throughout the month of September, Mary Sauer's works will be on view and will join us during gallery stroll to discuss her paintings and answer questions. We hope to see you there!
Painter Mary Sauer was born in Greenville, Kentucky in 1986. Her work has been exhibited throughout the United States including over a dozen shows in New York City alone. Mary is a 2014 recipient of The Elizabeth Greenshields Foundation Grant for traditional figure painting and winner of the 2014 Director's Award at the Springville Museum of Art's annual Spring Salon. Mary's art is influenced by nineteenth century painting including John Singer Sargent, the Pre-Raphealites, and the French Academics as well as contemporary realist academic painting and fashion photography.
Her education includes a BFA in Illustration from Brigham Young University in 2009, further studies at The Art Student's League of New York and The Grand Central Academy of Art, and an MFA from The University of Utah. For two years she apprenticed in the studio of master painter William Whitaker.
Her work has been featured on the cover of American Art Collector Magazine, in the annual, "21 Under 31," feature in Southwest Art Magazine, and in feature articles in both International Artist Magazine and the April 2014 issue of The Artists Magazine.
Her painting, 'Anna' was awarded Best in Show at the 2012 Portrait Society of America International Portrait Competition, for which she was again a finalist in 2013.
---