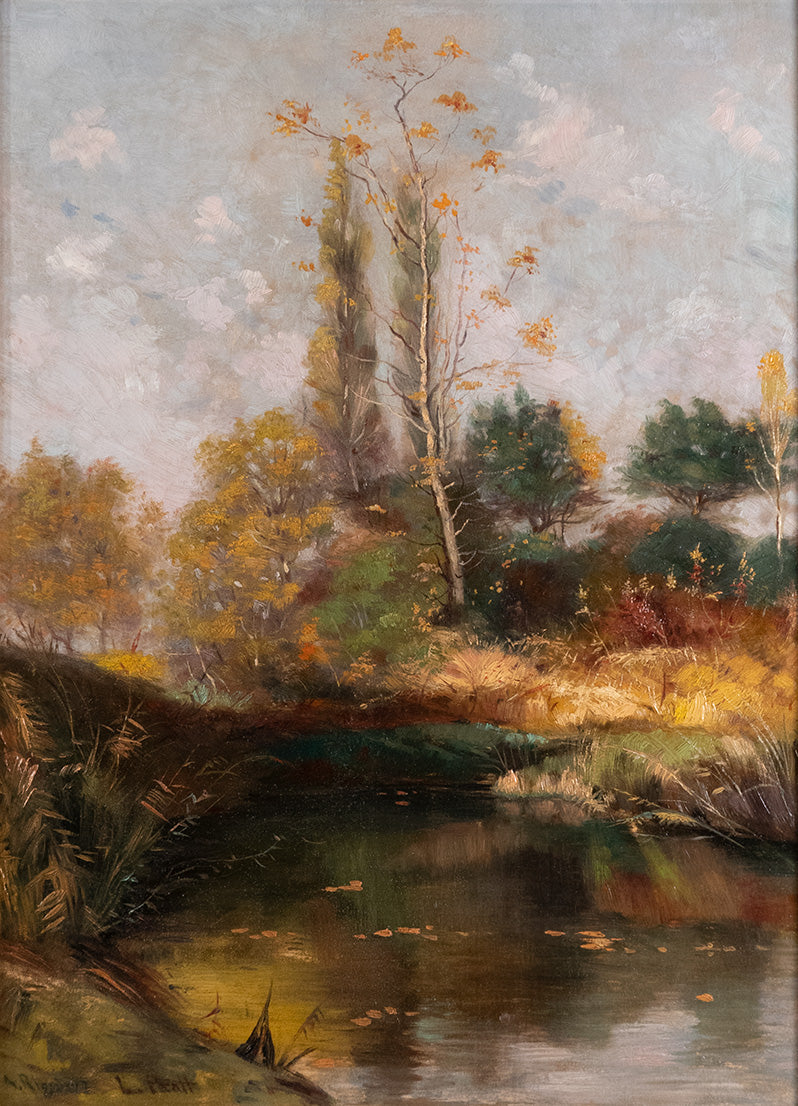 Lorus Pratt (Tooele, UT 1855 - 1923, Salt Lake City, UT)
with Albert-Gabriel Rigolot (French, 1862 - 1932)
Landscape with Pond (c. 1890)
25 1/4  x 18 1/4 in., Oil on canvas.
Anthony's Fine Art, Salt Lake City

Lorus Pratt was one of five Utahans sent by leaders of the Church of Jesus Christ of Latter-Day Saints to study in Paris in order to complete the grand design of the Salt Lake Temple. In Paris, Pratt studied with the Albert-Gabriel Rigolot (French, 1862 - 1932). Rigolot was a prestigious landscape artists, whose works had won multiple awards at the Paris Salon and various Universal Expositions (a.k.a. World's Fairs). Today his works are found in the collections of the Musée d'Orsay, Musée des Beaux-Arts de Rouen, Petite Palais, and Musée du Luxembourg, among many others. 

Rigolot was admired by contemporaries for his ability to paint in plein air, working quickly from start to finish out of doors while maintaining the complexity of color, composition, and painterly brushstrokes of an artist that otherwise would have taken weeks to complete in a studio. For Pratt, who had been sent to learn to painting landscapes quickly and in large scale, Rigolot's mentorship was instrumental.



Albert-Gabriel Rigolot (French, 1862 - 1932)
Landscape with pond (n.d.) Oil on canvas. 24 2/5 x 18 1/8 in.
Private French collection

The painting is signed twice in Pratt's own hand, once with the name of "A. Rigolot" and then "L. Pratt." It strongly resembles in composition, subject, and size of a painting by Rigolot, Landscape with pond. The script and execution of the piece suggest the work was done mostly by Pratt. But, given that the painting by Rigolot has remained in a French collections, the most likely scenario is that Rigolot either painted his work alongside Pratt, in order to teach his student the process of making a work; or, Pratt was shown the finished work by Rigolot, who encouraged the younger artist to make a study. In both cases, it was common practice for a teacher to be directly involved in the making of the work, painting on the student's own canvas to show technique and help develop the work.
Whatever the case, works by Pratt are rare. Of the four surviving Utahan's sent to Paris (i.e. Herman Haag dies shortly after) Pratt is the least prolific, thereafter dedicating himself to  farming and teaching English at the University of Utah. 



Winter Ranch by John Hafen, 12 x 18 inches, oil on canvas

After spending a year studying in Paris, John Hafen was the first artist to get started on painting the murals in the Salt Lake Temple. Edwin Evans followed soon after in 1892, and also painted the murals in the Cardston, Alberta, Canadian temple. 

Edwin Evans partnered with fellow artists, J.T. Harwood and John Hafen, to start the Academy of Art in Salt Lake City. He later became the head of the art department at the University of Utah, which cemented his status as a foundational pioneer era painter.


Southern Utah by Edwin Evans, 15 x 18 inches, oil on canvas
J.B. Fairbanks also went on to teach at the University of Utah, where he passed on his passion for plein air painting to a new generation of artists, including his student LeConte Stewart.


Wheat Field by J.B. Fairbanks, 8 x 12 inches, oil on canvas

Another pioneer artist, Danquart Weggeland, was considered the "Father of Utah Art". A Norwegian immigrant, Dan brought rare European training to the western frontier when he emigrated to Salt Lake City in 1862. He became known as a muralist, depicting early scenes of pioneer life and LDS church history. He eventually became a teacher to several of the art missionaries, who studied in Paris and painted the murals inside the Salt Lake Temple.



"Armstrong Farm at Mountain Dell" by Dan Weggeland, 22 x 34 inches, oil on canvas 

---