Featured Artist | Aaron Stills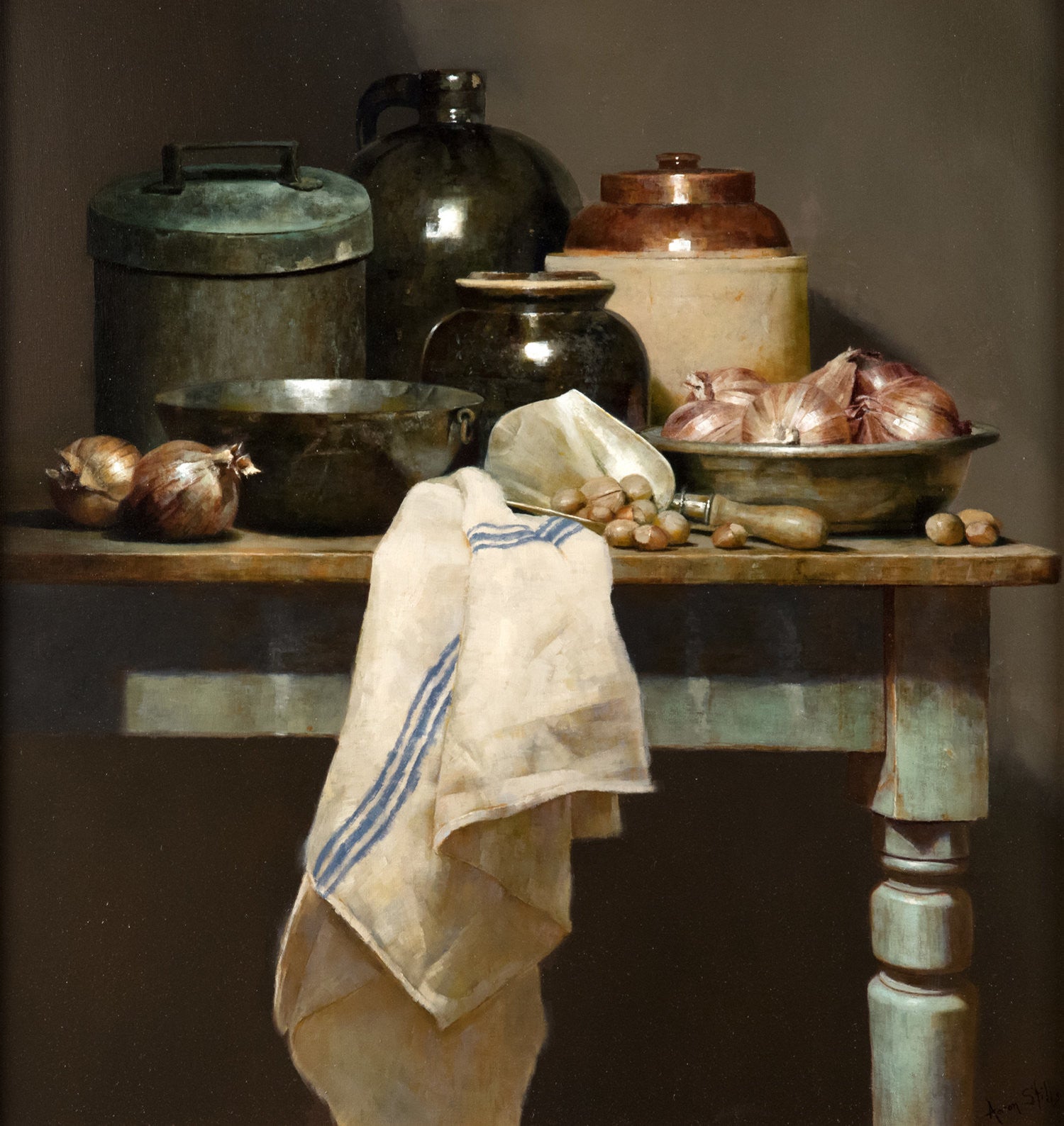 This Friday we open a month-long exhibition of masterworks by the painter Aaron Stills. His meditative oil compositions of everyday objects are composed and executed over months with decades of experience. Those who have met Stills, even for a moment, recognize that the calming scenes in his work are only a extension of his peaceful demeanor
Over the years our Gallery has shown works ranging from Peter Paul Rubens to John Singer Sargent and Maynard Dixon. The skill and quality of these masters is immediately evident and difficult to find in contemporary art. Aaron Stills paintings are among the few that stand comparison. 
Stills' initial training took place at the University of Utah, where he studied with Alvin Gittins (American, 1922-1981). Gittins was a nationally-renowned portraitist, a staunch proponent of academic practice. From Gittins, Stills learned the important of composition, perspective, and tone. He developed a basic arsenal that would dramatically expand. 
But, first, he became a belly dancer. 
In the late 1970s, Aaron Stills travelled to Egypt, Syria, and Lebanon, where he trained with the best bellydancing instructors in the world. Stills was a sought-after performer, who won recognition in several international competitions. For fifteen years, Stills was dedicated exclusively to dancing. Then in the early 1990s, he returned to Utah and began painting again. (Stills now splits his time between dancing and painting. He is now a dedicated Flamenco dancer.)
After he returned, Stills' first works were experimental, ranging from figurative paintings akin to those made by Gittins, to abstract paintings. But, shortly, Stills found himself drawn to the challenges posed by still lifes.
Unlike figurative paintings, where artists are judged on the ability to capture a likeness or communicate narratives, still life artists are concerned with formal challenges: capturing perspective, drawing viewers' eyes around a composition through shape and color, and the conveying of ideas through symbolism.
Stills' paintings almost always have a large variety of items that are technically difficult to capture in oil painting: the glassy glaze of porcelain, the opaque blue-and-white veining of Stilton cheese, and the opacity of onion skin. Stills' ability to mimic these often takes multiple layers of oil paint that each dry over months. This technical expertise is most often remarked upon by professional artists, who visit the Gallery. Among oil painters, Stills is considered a modern master.
His works carry titles like "Grandmother's Preserves" or "Autumnal Harvest." Their contents are drawn from his own childhood memories of growing up in the West and being raised by a generation that maintained the practical pioneer skills that carried familiar through homesteading and the Great Depression. 
While we have carried Stills' works for years, often having only one or two at a time. This past two year has been unusually productive. Stills is both producing more and better work than he has ever done before. In our current show, there are 16 works — all complete works, ranging from 14 x 14 in. to 40 x 40 in. 
We are thrilled to be Aaron Stills exclusive dealer.
---