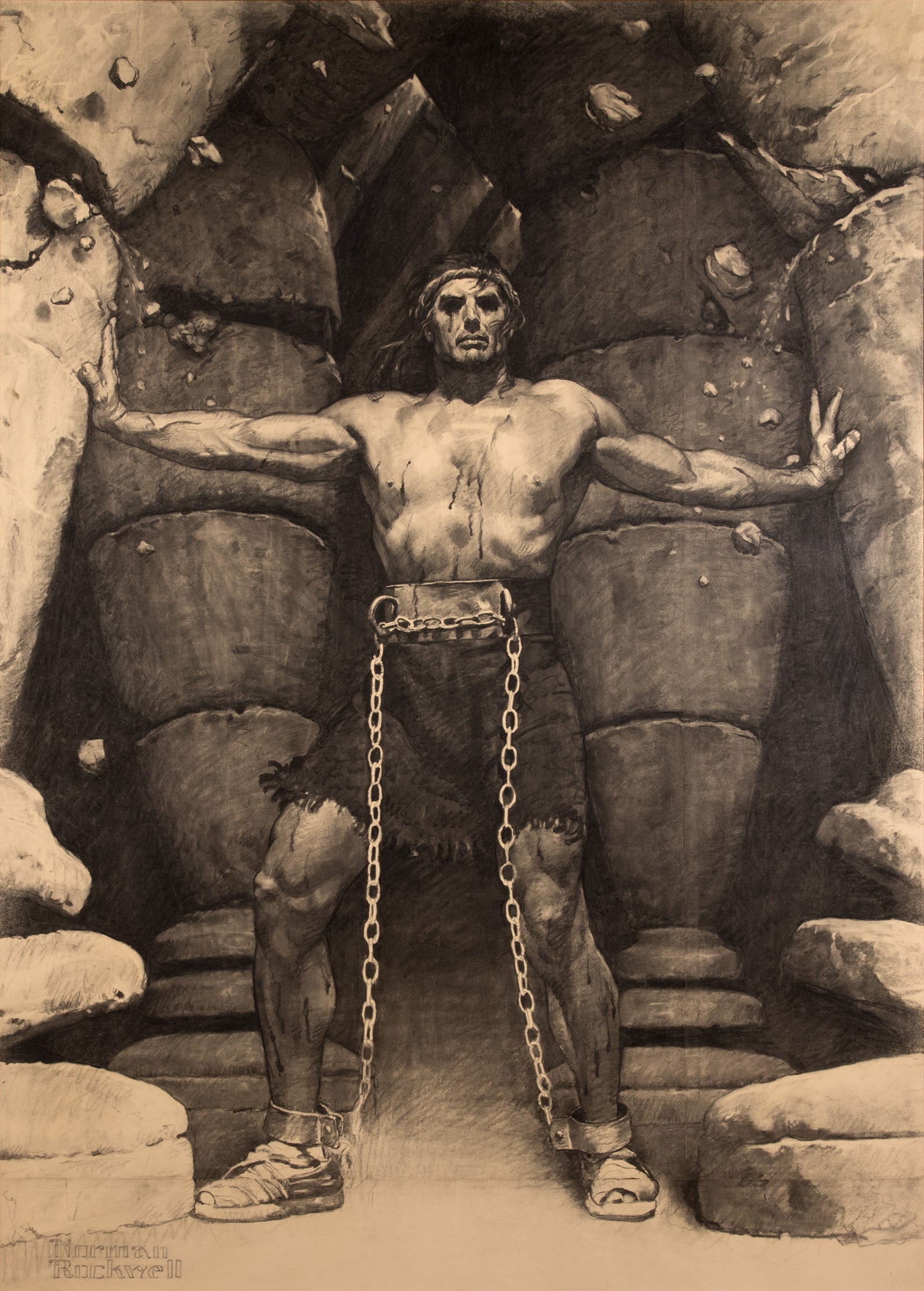 In 1947, Norman Rockwell was approached by Cecil B. DeMille to help conceptualize the most dramatic and meaningful moments of what would become one of the most successful films of all time. Concerned with making something with gravitas, DeMille insisted that Rockwell, step outside of his aesthetic of everyday genre scenes that had made him famous, look to  Old Master depictions of the subject. The work became a central plank in Rockwell's ambitions to create an academy of art, and be seen as a serious figurative artist.  
About the Commission
John Bainbridge. "Samson and Delilah and DeMille: The masters of the biblical epic turns in a fine performance directing his new spectacle.," Life Magazine,  5 Dec. 1949: 
Casting the two principal roles posed a problem, especially since DeMille prides himself on, among other things, the verisimilitude of the characters and backgrounds in his movies. He hired a researcher, one of whose tasks, aside from digging up lore on how people dressed, ate and generally behaved in the olden times, was to round up photographs of the paintings of Samson and Delilah by the Old masters — Rembrandt, Rubens, Gustave Doré, and others.
Group photo of Famous Artists School Faculty. Left to right: Harold von Schmidt, John Atherton, Al Parker, founder Al Dorne, Norman Rockwell (with painting created for "Samson and Delilah"), Ben Stahl, Peter Helck, Stevan Dohanos, Jon Whitcomb, Austin Briggs, and Robert Fawcett.
The Significance of Samson in Norman Rockwell's Ouevre
The commission coincided with the founding of the Famous Artist School, a new educational effort by twelve professional artists to promote arts education by correspondence. Advertisements for the courses were promoted heavily in national publications. Rockwell was perhaps the most promiment of the twelve, and his image was featured heavily in promotional materials. These promotional images featured Rockwell working at his easel on Samson (1948), sending an important message about the kind of education students would receive.
By 1948, Rockwell had a well-established, national reputation as a painter of genre scenes for magazines. Until recently, this meant that Rockwell was not considered a fine artist; but, rather, as an illustrator. Samson represented a serious aspirational break from Rockwell's ouevre; an attempt to establish himself as a history painter, in the academic sense. 
From the Renaissance, there had been established a well-known heirarchy of art. Those who created large-scale historical, mythological, and religious scenes, were considered artists of the highest order. This idea was perhaps best articulated by the seventeenth-century thinker André Felebien:
He who produces perfect landscapes is above another who only produces fruit, flowers or seashells. He who paints living animals is more estimable than those who only represent dead things without movement, and as man is the most perfect work of God on the earth, it is also certain that he who becomes an imitator of God in representing human figures, is much more excellent than all the others ... a painter who only does portraits still does not have the highest perfection of his art, and cannot expect the honour due to the most skilled. For that he must pass from representing a single figure to several together; history and myth must be depicted; great events must be represented as by historians, or like the poets, subjects that will please, and climbing still higher, he must have the skill to cover under the veil of myth the virtues of great men in allegories, and the mysteries they reveal
It is my assertion that by using Samson and not one of his more popular images in promotional materials for his school, Rockwell was attempting to assert his seriousness as an artist in the academic tradition.
Condition

The work was discovered in a carboard tube by the stepson of Victor Emmanuel, who originally posed for Norman Rockwell for the work. The work was in three pieces, taped on the reverse. The tape had become brittle. And, it was determined by conservators that the best solution would be to lay the three works, as originally configured, on linen.  The absence of foxing and tears suggest that the work has remained in the tube since it was originally put in the tube, perhaps by Rockwell himself. The idea that it has not been removed and displayed is further suggested by the lack of yellowing in the paper caused by exposure to light. The drawing itself is well preserved, without smudging. 
The "Norman Rockwell" signature in the bottom left hand is important. It indicates that Rockwell considered it complete and significant enough to stand on its own as a work of art.
---