Minerva Teichert & Robert Henri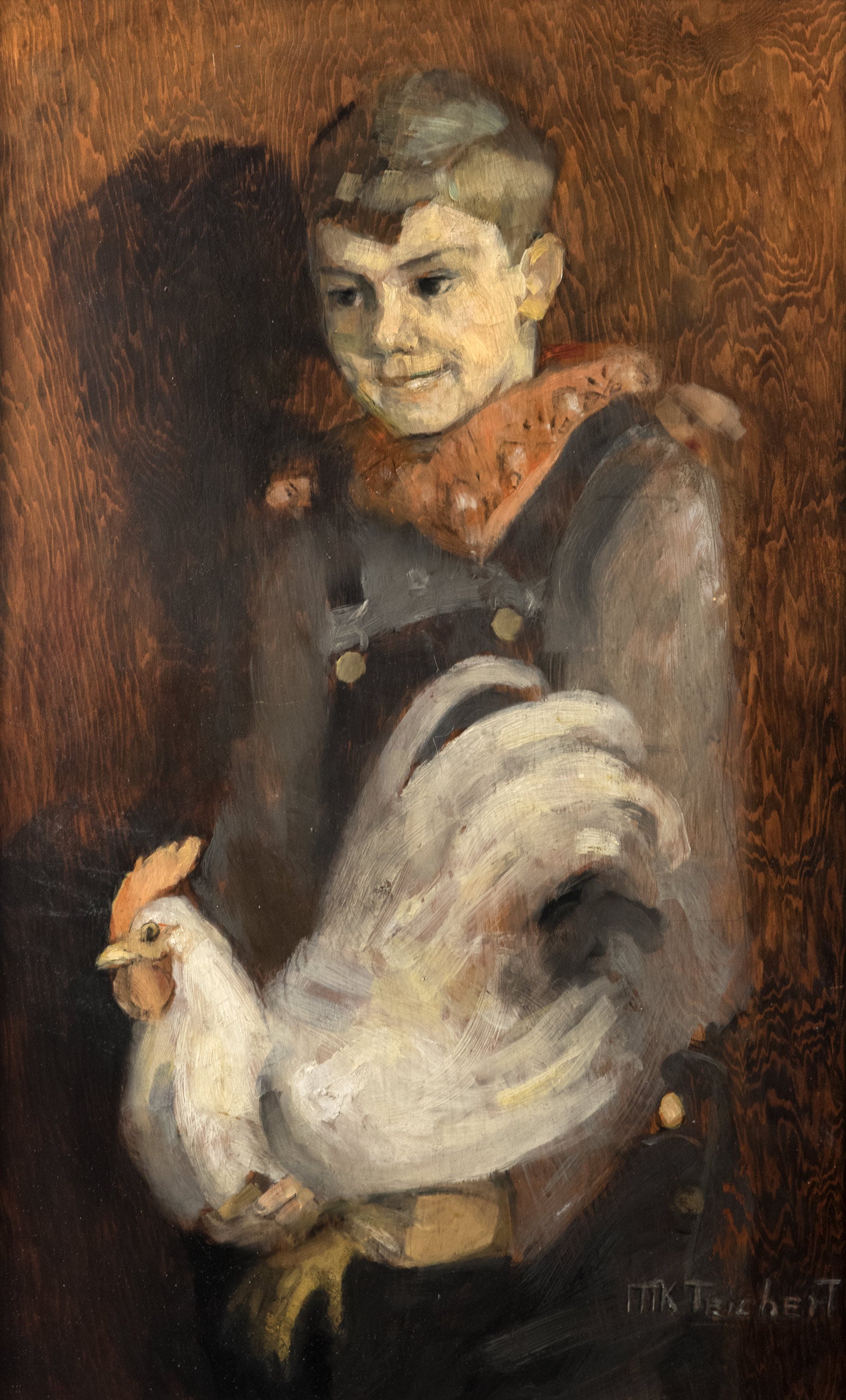 Recently we acquired three works from the well-regarded artist Minerva Kohlhepp Teichert (American, 1888-1976) which help tell an interesting story of one of the West's greatest figurative artists, and her deep connection to her teacher in the East. 
Portrait of Hamilton Teichert with His Pet Rooster (1929) by Minerva Teichert. Available at Anthony's Fine Art
In 1914, after a brief time studying at the Art Institute of Chicago, Teichert left to study at the Art Students League in New York under Master Robert Henri. Henri, himself was trained in Philadelphia and then the Académie Julian under the academic realist William-Adolphe Bouguereau. Under the tutelage of Henri, Teichert developed her signature style inspired by the impressionists of France, through the lens of her American teachers. Though she only spent a year with Henri in New York, his influence loomed large in her life, to the point that her second son bore the name Robert Henri Teichert. 
Mrs. John C. Nagel by Robert Henri. Available at Anthony's Fine Art
After leaving the Art Students League, Teichert recorded the following with regards to Henri and his life changing counsel:
It was as if the Lord intervened just so I could have him as an instructor. Mr. Henri gave me the clarity of purpose for my painting and vocalized an inner whisper as I struggled to find my art style. "Miss Kohlhepp," Robert Henri, knowing full well that I was a Mormon from Idaho, looked me in the eye and asked, "Has anyone ever told your great Mormon story?"

"Not to suit me," I answered.

"That's your birthright. You feel it. You'll do it well."
Soon after, Teichert returned to Cokeville, Wyoming where she would spend a career working to paint "her story." Today she is well known for her portrayals of pioneers crossing plains and rivers as well as depictions of scenes from The Book of Mormon, "to suit" her interpretations and style. She has quickly become one of the most regarded and desired artists in both Utah and LDS art. 
Portrait of Hamilton Teichert by Minerva Teichert. Available at Anthony's Fine Art.
But, in these works, she demonstrates the profound influence than Henri had on her. As she returned home to the West, she painted portraits that clearly reflect his style and application of paint to human figures. But instead of depicting the children of wealthy New York socialites, she paints her own, not in mink hats and fine-twined linen, but in work clothes, showing off her son Hamilton's best rooster.
Still Life with Flowers by Minerva Teichert. Available at Anthony's Fine Art.
Living on a farm in Wyoming helped refine Henri's influence to the relatable, yet ethereal qualities that Teichert's work has grown to be recognized for throughout the world. These works show us her roots, her pure talent, early in her career when the shadow of her greatest teacher still loomed large and hints at the monumental, revolutionary style she would embody for half a century of painting, "her story."
Zion Ho! (Handcart Pioneers) by Minerva Teichert. Collection of the LDS Church
---