Meditations on a Rediscovered Masterpiece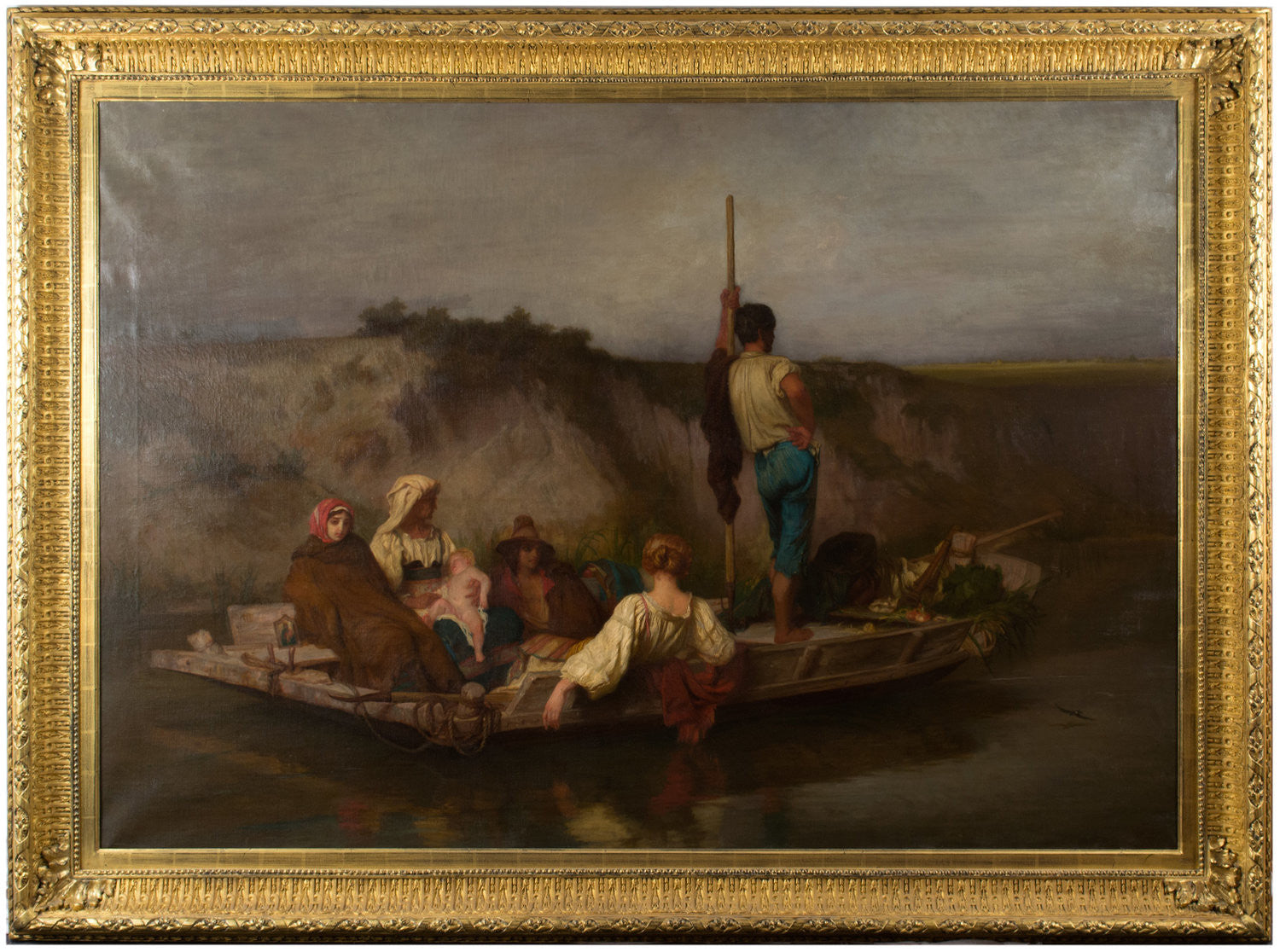 If there is one painting I could share right now with friends around the world, it would be La mal'ariaby Ernest Hébert (French, 1817-1908). Painted in the midst of a European refugee crisis, the work offers a message of perspective and hope. We recently discovered that we have one of four originals made by the celebrated artist. Exploring its context has been a revelation, both about the past and present.
Shown in the Paris Salon of 1850, La mal'aria (1850) was awarded the prestigious contest's top award. Critics hailed the work for both its execution and theme. The writer Théophile Guatier dedicated an epic poem to the work, and returned to it again and again as the first work of a new era in the discipline of art, "embracing both tradition and providing a new approach" of naturalism. The critic Étienne-Jean Delécluze considered La mal'aria not only the greatest work of the Salon, but one of the two best paintings of the century, saying "The work is a representative of the second half of the 19th century as the Raft of the Medusa [by Théodore Géricault] was for the first."
The work was painted at the height of a malaria outbreak in southern Europe that, over the course of eighty years, killed more than two million people in Italy alone. With mosquitoes thriving in the warm climates that favored farming, the poor and uneducated were disproportionately affected. Entire farming villages in the South of Italy were abandoned as survivors fled to the cooler, northern parts of Europe, in particular France.
Simultaneously, France underwent a series of political upheavals.  Throughout the 1830s, disenchanted with King Louis-Philippe, anti-monarchists staged several armed rebellions. They finally succeeded in the February Revolution of 1848. When, King Louis-Philippe abdicated, and a new government was formed with Napoleon III at its head. His Second Republic first coined the national motto: Liberté, égalite, fraternité (i.e. Liberty, Equality, Fraternity). But, for some Frenchmen, this egalitarian brotherhood did not extend to foreigners.
Those fleeing disease were poor and uneducated. In newspapers, Italian immigrants were described as a drain of economic resources, and, even more seriously, a potential source of contagion. One contemporary newspaper compared Italian immigrants to rats, suggesting that the safest course of action would be to blast immigrant-laden boats with cannon for "the sake of patriotism."
Working in Rome, Ernest Hébert watched events unfold. Hébert was a child of privilege. His father was a provincial merchant who had grand plans for his son. At age 20, Hébert was sent to Paris to study law. However, he secretly enrolled in painting lessons. Four years later, Hébert surpassed his contemporaries to win the prestigious Prix de Rome, a scholarship granted to the nation's most promising artist, providing room and board in Italy for two years.  
Two years stretched into several decades. Hébert thrived in Rome, staying long after the period his scholarship ended. He made a living by selling artworks to tourists. Occasionally, Hébert sent large works to Paris as submissions to the annual Salon. But, more often than not, his works were shown with little to no critical attention. Then in 1848, Hébert caught malaria and, to recover, travelled to the Italian coast, specifically the Pontine Marshes, 28 miles east of Rome.
There he witnessed a small family making their way north. In a letter to his Mother, the artist wrote:
I am going to make ... a picture of average size, it is Italian peasants who descend the canal of the Pontine marshes on a kind of boat. I composed it in Rome and all those who have seen it here have urged me to execute it on a grand scale. (February 14, 1850) 
The scene depicts a small group of peasants, a husband and wife, a young boy and girl, and a grandmother holding a toddler. They are surrounded by their meager, earthly possessions: a few onions, a bagpipe, and a religious icon. Their small boat is just exiting a barren, sandy land and directed towards a sun-filled expanse in the far distance. There is no menace. These are strong, capable, and clean individuals; the victims of circumstance, who are risking their lives for a better world. 
While the subject could be immediately grasped by a broad audience, Hébert appealed to the educated class of politicians, artists, and writers through classical references. By including the strong young man at the helm, the baby and the religious icon, Hébert was borrowing iconography from the story of Aeneas, the Greek hero, who carried his father, son, and sacred icons out of a burning city and across a river to safety.
When the final, "grand scale" La mal'aria arrived in Paris, it immediately became part of the national debate about refugees.  The work was unanimously voted as the Grand-Prize winner of the Salon of 1850, and acquired by the French State. It now hangs in the Musée d'Orsay. Over the next six years, Hébert made four versions of La mal'aria, identical in size to the original. The whereabouts of one of those versions is unknown. One is located at the Musée Hébert, a museum dedicated exclusively to the artist and located in his home province of Grenoble.  The other surviving version was located in a warehouse in Belgium, where it sat for more than 60 years until purchased by Anthony's Fine Art & Antiques. We had the work in storage for nearly a decade, assuming it was only a study copy by an admiring artist, until imaging technology revealed Hébert's signature, dated 1854.
After the success of La mal'aria, Hébert sealed his position as a member of the French pantheon of artists. In 1867, he was named Director of the French Academy in Rome — a position held by Jacques Louis David and Jean-August-Dominique Ingres — from 1867 to 1873 and, again, from 1885 to 1890. There he influenced a generation of artists, including Gustave Doré, Arnold Böcklin, Anselm Feuerbach, Frederic Lord Leighton, William Blake Richmond, Giovanni Costa and Giulio Aristide Sartorio. Today there are two museums dedicated exclusively to his works, the Musée Hébert (Grenoble) and Musée Hébert (Paris).
Our discovery of this La mal'aria has coincided with another great refugee crisis — one that has sparked a debate as divisive and urgent as the one experienced by Hébert's generation. Families from Syria, Iraq, Afghanistan, Honduras, and Somalia are gathering in camps and on borders. Studying La mal'aria each day has provided me with an historical perspective on current events. I am reminded of Mark Twain's observation that "History does not repeat itself, but it does rhyme." It is my goal to be out of rhythm with the voices of fear that are present at all times, and to harmonize with the hope and goodwill embodied in Hébert's masterpiece.
---