Notes on a Masterpiece Found: Emmanuel Leutze,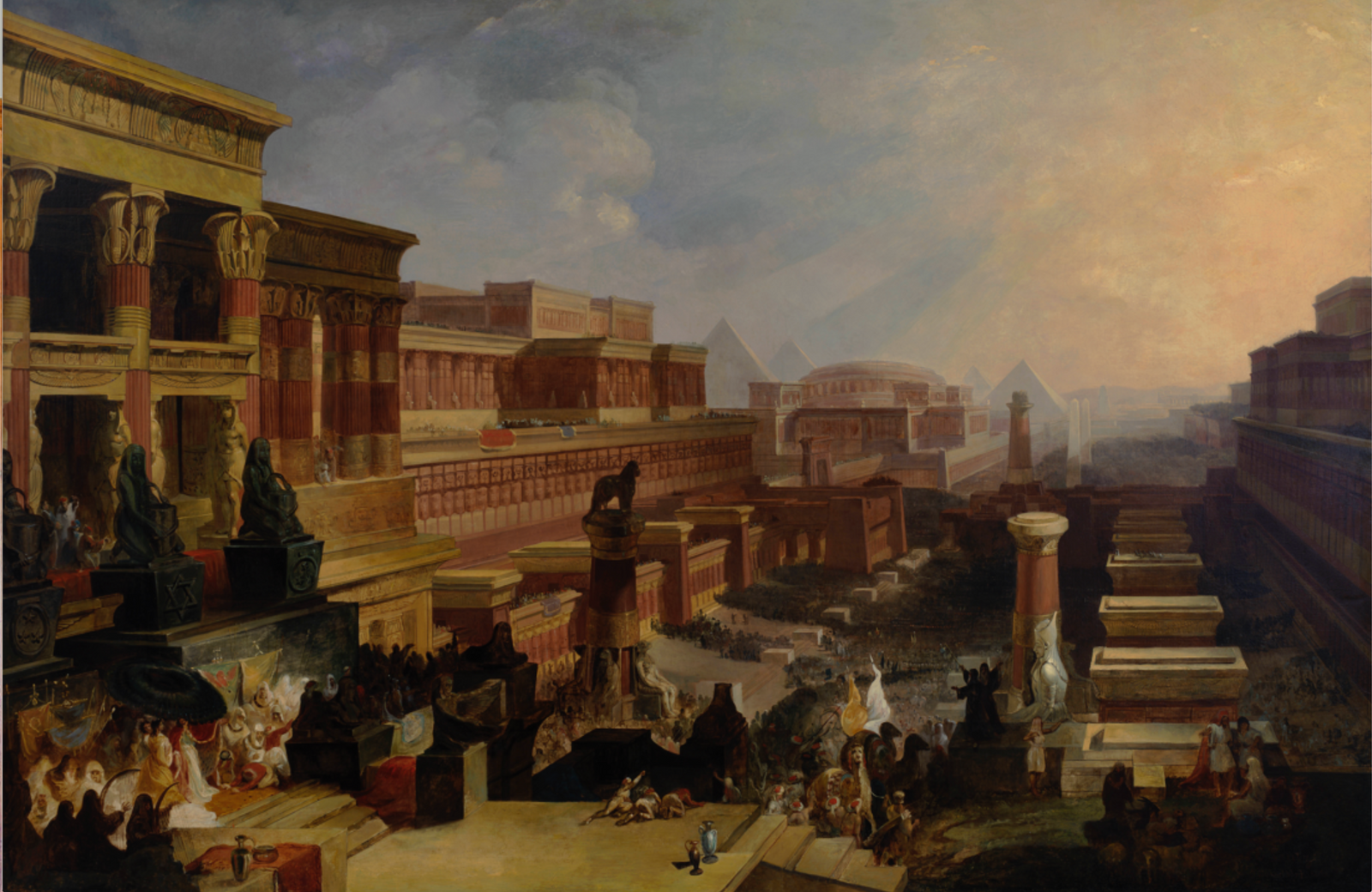 Emanuel Leutze (German/American, 1816-1868)
Departure of the Israelites (1844)
Oil on canvas
72 x 108 in.
Signed, "E. Leutze, Düsseldorf 1844"
 Micah Christensen on Emmanuel Leutze, "Departure of the Israelites" 
Notes on a Masterpiece Found
Shortly before painting the iconic Washington Crossing the Deleware (1851 | Metropolitan Museum of Art) and Westward Ho! (1851 | US Capitol) Emanuel Leutze made The Departure of the Israelites (1844). In execution, the monumental painting established his credentials as an academic artist. In theme, it was among the first in a series of paintings that celebrated freedom and became central to American identity.
Emanuel Leutze (American, 1816-1868) Washington Crossing the Deleware (1851) Oil on canvas. 149 x 255 in. Metropolitan Museum of Art, New York
Born in Germany and brought by his political-exile parents to the United States as a child, Emanuel Leutze was accepted to the Royal Academy of Art in Düsseldorf. Though among the best schools in the world, at Leutze's arrival, the Düsseldorf Academy was deeply divided ideologically between the newly-appointed monarchists and progressives. Leutze, much like his father, was a dedicated Republican and left the academy in 1843 after only two years.
Leaving prematurely could have severely hampered Leutze's development and career. Academically trained artists are expected to have mastered skills necessary for large-scale, multi-figural painting. Such training took years — sometimes decades — of classroom instruction, competition, and travel. Leutze would need to develop the skills independently; and, perhaps more importantly, establish a reputation without the imprimatur of the Academy.
Leutze undertook a one-year, self-guided Grand Tour, traveling through Switzerland and Italy in preparation for a work that would demonstrate his formidable arsenal of skills and artistic philosophy, which he described in a later interview:
" . . . the romantic ruins of what were once free cities with their grey walls and frowning towers, in which a few hardy persevering burghers bade defiance to their noble oppressors, whose territories often extended to the walls and surrounded their towns, led me to think how glorious had been the course of freedom from those small isolated manifestations of the love of liberty to where it has unfolded all its splendor in the institutions of our own country. Nearly crushed and totally driven from the old world it could not be vanquished, and found a new world for its home. This course represented itself in pictures to my mind, forming a long cycle, from the first dawning of free institutions in the middle ages, to the reformation and the revolution in England, the causes of emigration, including the discovery and settlement of America, the early protestation against tyranny, of the Revolution and the Declaration of Independence." (Emanuel Leuzte. Bulletin (September 1851, 95.)
Upon returning to Düsseldorf in 1844, in order to demonstrate his bona fides as equal to those who had actually graduated from a formal academy, Leutze painted his monumental The Departure of the Israelites (1844). The painting is an amplification of David Roberts' 1829 work by the same title, something Leutze would have only seen as a small, black-and-white print.
Here, the viewer is given a lofty vision of Egypt at the height of its power. It is the day after Passover, the last of the Ten Plagues, in which the First Born of the Egyptians were killed, while those of the Israelites were spared.
And Moses said unto the people, Remember this day in the which ye came out from Egypt, out of the house of bondage for by strength of hand the Lord brought you out from this place . . . (Exodus 13:3)
The Pharaoh and his entourage stand to the left surrounded by mourners, as Moses and Aaron, on the right, guide a river of people and animals — some one million souls —  past onlookers and armies. As they depart, the Israelites pass through the monuments they created as slaves and on to the wilderness.
The imposing architecture is a combination of actual places (e.g. the Pyramids at Giza) and the imagined grandeur of the ancient past. In scale and perspective, it required remarkable control of forced geometric perspective and control of color values in order to make a scene that gives what today we would consider cinematic. (Many of Leutze's underlying sight lines can be seen as the paint has aged and thinned.)
For Leutze, the scene was both scriptural and a political manifesto. Having lived and traveled in Europe during the Age of Revolution, Leutze saw a Germany divided between various warring principalities and an idealistic group of reformers, to which he belonged.
Emanuel Leutze (American, 1816-1968) Westward the Course of Empire Takes Its Way (1861) 20 x 30 feet. United States Capitol, Washington, DC.
Over the next six years, Leutze would paint various historical freedom fighters from Columbus to Cromwell to the Puritans, and John Knox, before painting his iconic Washington Crossing the Delaware (1851). The painting was first presented in Düsseldorf, Cologne, and Berlin — several years before his arrival in America. Leutze hoped the painting would both inspire German constitutionalists and rally the support of Americans for their cause.
As his fame grew on both sides of the Atlantic, Leutze was invited to create an enormous 36-by-56-foot canvas for the newly finished Capitol Building in Washington DC. Though popularly known as Westward Ho!, Leutze's formal title for the work was Westward the Course of Empire Takes Its Way (1861).
Albert Bierstadt (American, 1830-1902) Rocky Mountain Landscape (1870) Oil on canvas. 36 2/3 x 57 3/4 in. White House Collection, Washington DC.
Leutze would return to Germany and establish himself in Munich, where he became a professor at the Royal Academy of Fine Art. There he was an important corridor between aspiring American artists and Europe. Albert Bierstadt, Enoch Wood Perry Jr. , James McNeill Whistler, Eastman Johnson, and Frank Duveneck, were just a few of Leutze's students who would go on to have a major influence — artistically and institutionally — on Europe and America.
Bibliography
John Coffey. Exodus and Liberation: Deliverance Politics from John Calvin to Martin Luther King Jr. (Oxford: Oxford University Press, 2014)
David Hackett Fischer. Liberty and Freedom: A Visual History of America's Founding Ideas (Oxford: Oxford University Press, 2005)
Karsten Fitz. "The Düsseldorf Academy of Art, Emanuel Leutze, and German-American Transatlantic Exchange in the Mid-Nineteenth Century," Amerikastudien/American Studies, Vol. 52, No. 1 (Transatlantic Perspectives of American Visual Culture, Universitätsverlag, Winter, 2007 (15 - 34.)
Barbara S. Groseclose. Emanuel Leutze, 1816-1868: Freedom is the Only King. (Washington, DC: Smithsonian Institution Press, 1975)
---