Historic Painting of Popular Skiing Destination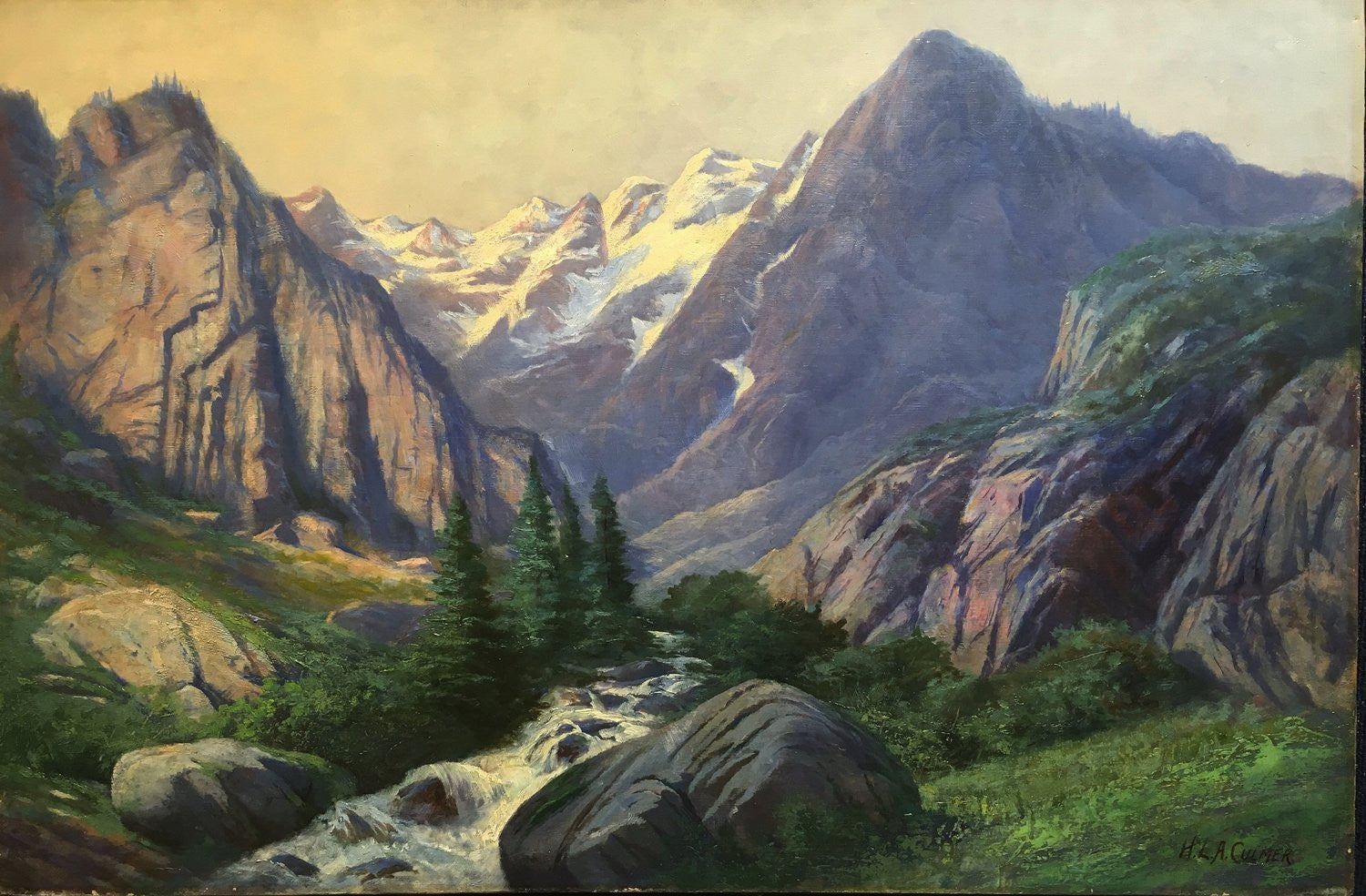 Entrepreneur, industrialist, politician, outdoorsman, and painter, Henry Lavender Adolphus Culmer (1854-1914) was among the most colorful and influential men of his generation. He was born in Kent, England. At age 14, Culmer joined the Church of Jesus Christ of Latter-Day Saints and travelled to the Salt Lake Valley, crossing the plains before the railroad was erected.
In Utah, Culmer simultaneously began a career in mining speculation — investing in land rich with coal and silver — and enrolled at the Deseret Academy (i.e. the precursor to the University of Utah). Unlike many artists who struggled to make a living in the territories, Culmer combined his surveying of natural resources with his love of art. 
Culmer was the first artist to paint in Alaska and also the first to paint the arches and red rock of southern Utah. In a 1886 interview with the Salt Lake Daily Herald, the artist said that mountains were "the most noble subject for any artist's brush."
In this work, Culmer captured a view from the base of Storm Mountain in Big Cottonwood Canyon, now part of Brighton Ski Resort and one of the most popular hikes in Utah, in what appears to be Spring, where the snow is still hugging the mountains and the melting runoff is creating a green valley below. Mostly likely made in the 1870s, it closely resembles a 1869 photograph of the same scene, made by the photograph Timothy H. O'Sullivan (Irish/American, 1840-1882).
O'Sullivan is best known for his heart-wrenching, graphic documentation of Civil War battle scenes, including Gettysburg. In 1864, he was made the official photographer of the United State Geological Exploration effort. In that capacity, he travelled to Utah and captured the Wasatch Mountains. (He would return again and again.)
According to Culmer's writings, O'Sullivan's photographs had a tremendous influence on his own work. It is possible that, seeing O'Sullivan's 1869 image, Culmer sought out the same location for this painting.
---