Christ with the Fisherman by Ernst Zimmerman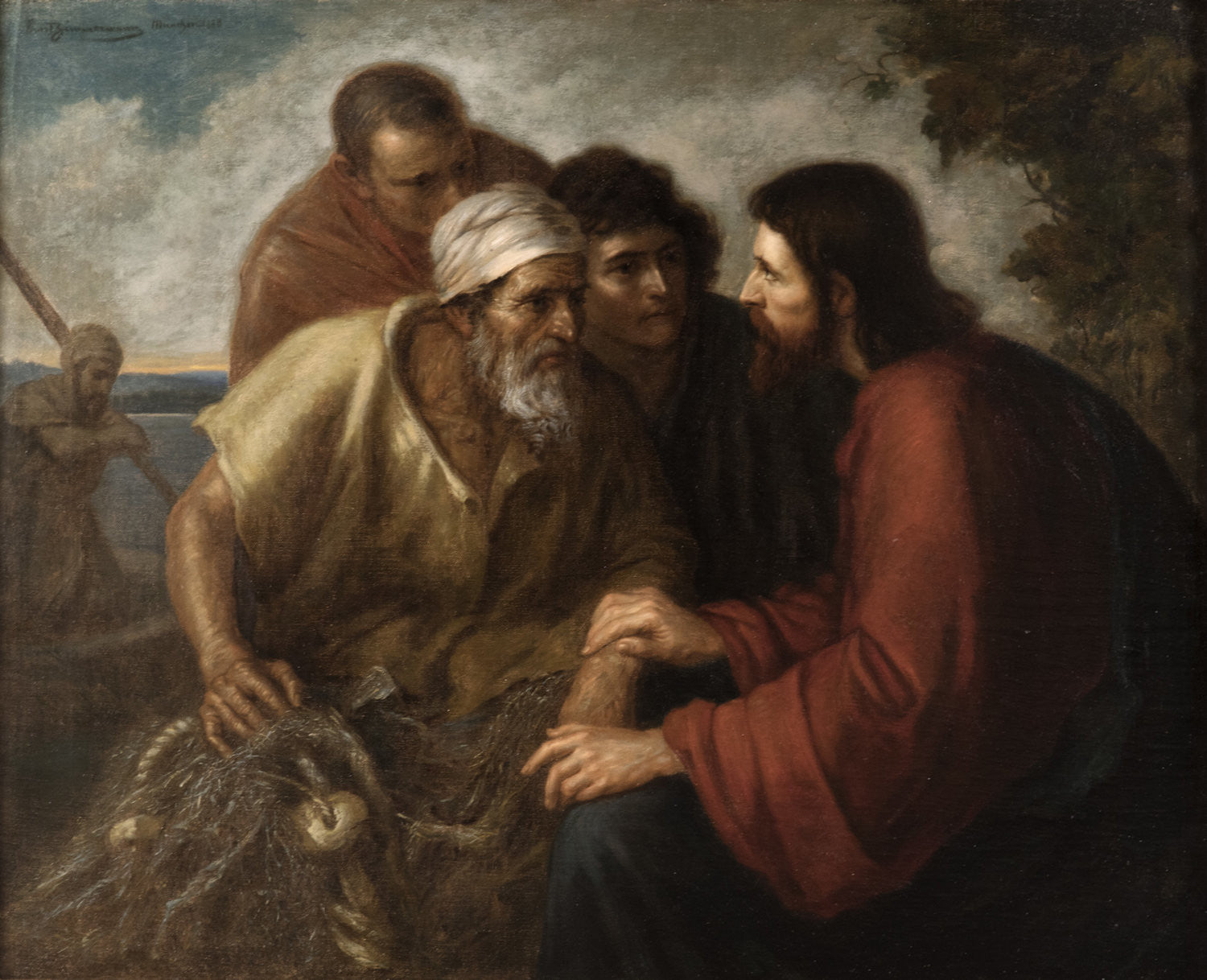 Earlier this year, we were privileged to acquired a major work Twelve Year Old Christ in the Temple (1879). (It is now a centerpiece in the BYU Museum of Art and on view until 2019 for their exhibition "To Magnify the Lord.") We are thrilled to have acquired a second major work by Ernst Zimmermann (German, 1852-1901):  Christ and the Fishermen (1888).
In his short life, Zimmermann won two international awards, the first at 1879 Universal Exhibition  in Munich for Twelve Year Old Christ in the Temple and the second for Christ (1879).  Much to the disappointment of contemporary Germans, that painting was sold — even before the exhibition opened — to an American, who donated to the painting to his local Church in Philadelphia. 
Seven years later, at the Jubilee Exhibition of Berlin — attended by more than two million people — Zimmerman won the top award for his painting Christ and the Fishermen (1886). The work was immediately acquired by the German State, and placed in the Museum of Fine Arts in Munich. 
Two years later, Zimmermann made the only known copy of his work, which he signed and dated "E. Zimmermann 1888" in the top left corner.  This was common practice for artists to make copies of their most famous work (e.g. Heinrich Hofmann made at least four copies of this painting Christ in the Temple). This work is even more significant because, the whereabouts of the original, 1886 version are no longer known. The work was originally hung in the Neue Pinakothek in Munich. But, after several decades of museum changes, the original has been lost.
Zimmermann was a student at the Munich Academy of Fine Arts, where he trained as both a landscape and figurative artists. He gained international attention at the Universal Exhibition of 1879, and then went on to create a series of religious works, nearly all of which were acquired immediately by the German State and placed in state-run museums.  In 1901, Zimmermannn unexpectedly died at the age of 49 from a horse-riding accident. A few days later, the art critic Fritz Von Ostini a long commentary, about the career and contribution of the artist, Zimmermann the "greatest master of religious painting, to which he devoted his entire abilities and aspirations." (Friz Von Ostini. Die Kunst unsure Zeit; eine Chronic des moderne Kunstlebens. Munich: Franz'Sche, 113).
---