An Historically Important Work by Mahonri Young Resurfaces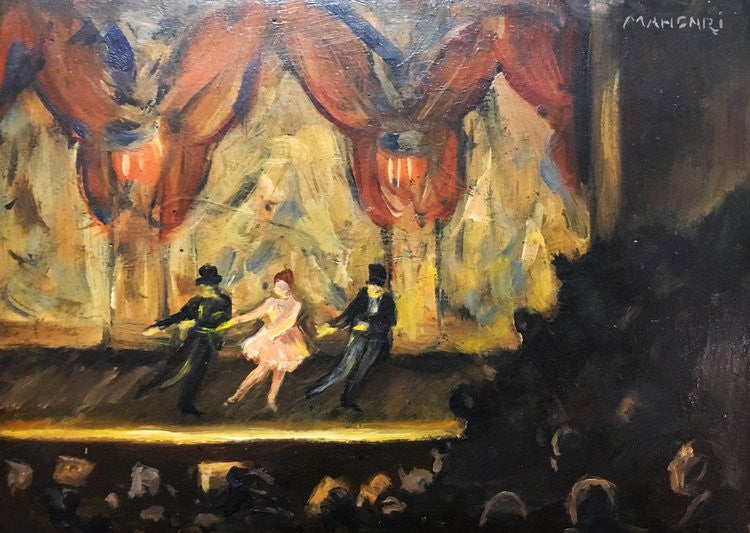 Titled simply "Vaudeville" this painting by Mahonri Young (1877-1957) tells the story of a pivotalmoment in Utah history and art. It reveals the vibrant culture in Salt Lake City as experienced and recorded by two of Utah's most important artists, at the beginning of their careers. 
The writing on the reverse provides the context. In black ink, on near the top it reads:  "Painted in Salt Lake City in 1906. The panel was owned by AB Wight. Mahonri Young." The script unmistakably belongs to Mahonri Young.
In 1906, both Young and Alma Brockerman "AB" Wright (1875-1952) had recently finished their studies and were the two most promising artists of their generation. Both had trained from an early age with James Taylor "JT" Harwood (1860-1950), who encouraged them to seek advanced training. Mahonri was the first to leave Utah. He travelled to New York in 1899, where he studied at the Art Student's League of New York.
Young returned to Utah in 1901 where, together with AB Wright, he saved money by working for the Salt Lake Herald as an engraver in order to travel abroad. Both Young and Wright were accepted to the prestigious Académie Julian in Paris (i.e. the same school where Harwood and four "Art Missionaries" sere went by leaders of the Church). They received a classical education from masters like William Bouguereau and Jules Lefebrve.
Wright returned to Salt Lake 1904, and was immediately made Department Chair of Art for Brigham Young College in Logan — forerunner to Utah State University. Young returned a year later, and almost as soon received commissions to sculpt statues of Joseph Smith, Jr. and Hyrum Smith for Temple Square.
In the ten years between 1896 and 1906, Utah had become a major draw for mining. The population of Salt Lake City nearly doubled witnon-Mormons, often shut out of opportunities in the Territory of Utah, were then allowed to do business in the new State. The diverse population bought new tastes, including the opening of the Orpheum Theatre on Christmas Day in 1905. 
The theater, later known as the Promised Valley Play House, was opulent and spacious. It seated more than 900 people (i.e. nearly three times the capacity of the Salt Lake Theater built by Brigham Young). And, for the first several years, the Orpheum theater almost exclusively staged Vaudeville performances by a full-time professional company and performed a variety show with dance, humor, and skits. 
Mahonri's painting captures three of the company's members the first year of its history from a view in the grand tier. The construction and pallette of the scene were reminiscent of work of Everett Shinn (American, 1876-1953), one of the eight founders of the Ashcan School would have been well known to Young during his time in New York.
Shinn, along with Robert Henri, sought to overturn polite and, what he considered, tired academic formulas. He used his classical training in the human figure, perspective, and value to depict everyday subjects in new ways calculated to surprise his audience. From 1899 to 1910, Shinn did a series of works in New York Vaudeville theaters. Such as Stage Scene (1906) — a work that sold to a private collector auction in 2004 for $7.8 million.
There are meaningful similarities between this work by Shinn and Young's Vaudeville (1906). Both feature high contrasts of darks and light. Young and Shinn are less interested in re-creating a well-balanced composition than they are with making the viewer feel as though he or she is experiencing the action on stage as a member of the audience. This means leaving out all kinds of details, such as fabric textures and careful construction of poses, in favor of capturing the ephemeral light and movement of those on stage and in the audience. Young's figures are made of only a few deftly placed strokes, effectively creating a sense of motion.
Within a few years, Young would move to New York, where he established a working relationship with the dealer C.W. Kraushaar, who founded Kraushaar Galleries in 1885 and quickly became a major influence on American art by being the first to host solo shows by foreign masters like Henri Fantin-Latour, Gustave Courbet, Edouard Vuillard, and Ignacio Zuloaga. Kraushaar was the principle dealer for the eight founding members of the Ashcan School, and was responsible for much of their commercial success.
Therefore, it is easy to conclude that Young, having just arrived in New York, would include this painting, reminiscent of the artists he studied under and whom Kraushaar represented, as part of his audition portfolio for the storied dealer. Mahonri was immediately folded into the galleries line up of artists. And, with the Kraushaar Galleries label on the back, this work was sold from the store on 57th street around 1911 and has been in the same New York collection until acquired by Anthony's Fine Art in 2017.
Both Young and Wright would go on to have extremely successful careers and enormous influence within and beyond Utah. Wright would teach at the University of Utah and create murals for several of the Church's temples before settling in France. Young became a fixture of the New York City art scene. Even as he participated at the height of the American art scene's zeitgeist, he planned and executed several iconic works in his home state, including Seagull Monument (Temple Square) and This is the Place Monument in Emigration Canyon.
This work is a rare example combining the lives of Young, Wright, and their native Utah during a time of great promise.
---