Hetch Hetchy in the High Sierras by Hermann Herzog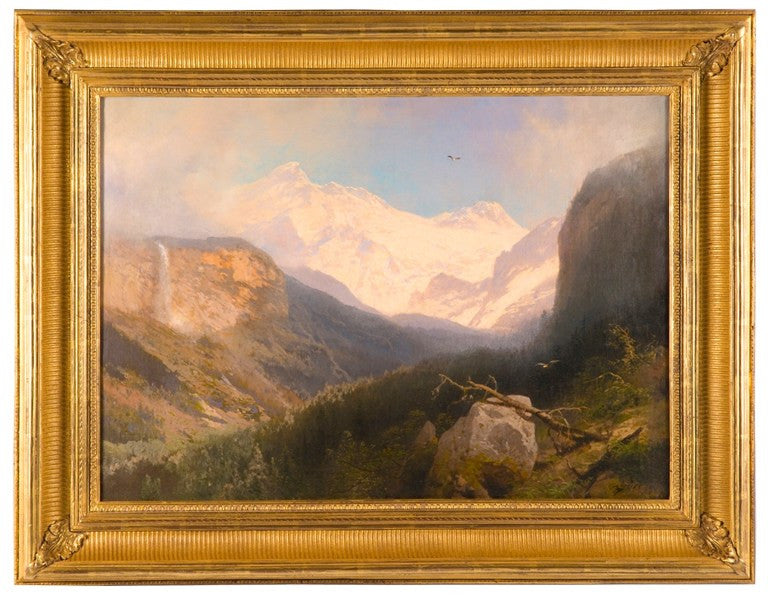 With paintings in the Metropolitan Museum of Art and Smithsonian, Hermann Herzog (German-American, 1832-1932) was among the first artists to travel to the American West. Herzog trained at the Royal Academy of Fine Arts in Düsseldorf. Before moving to the United States, he painted throughout Europe and was patronized by several royal families. In the 1870s, together with Albert Beirstadt (German-American, 1830-1902) and William Keith (Scottish-American, 1838-1911), Herzog travelled to the Yosemite, through the Sierras and to the Hetch Hetchy Valley, for this painting.
Hetch Hetchy is just north of Yosemite Valley and directly east of San Francisco.  For more than 6,000 years it was occupied by the Miwok and, then, Paiute peoples. After the 1906 earthquake that destroyed much of San Francisco, the decision was made to dam the Hetch Hetchy Valley in order to provide a stable water supply for region.  The controversial plans were opposed by the Sierra Club —founded to fight the dam project — and the naturalist John Muir who said:
Dam Hetch Hetchy! As well dam for water-tanks the people's cathedrals and churches, for no holier temple has ever been consecrated by the heart of man. (Hetch Hetchy Valley, 1912)
This painting by Herzog of Hetch Hetchy is one of the few that records the valley before it was covered in water. Other depictions include William Keith's, located in the DeYoung Museum of Art (San Francisco) and another by Albert Beirstadt held in the Wadsworth Antheneum (Hartford).
Come see the painting in person or you can purchase it through 1stdibs.com.
---